Waste not.
Benjamin Franklin's classic advice has turned into more than just a successful business strategy for Jim and Mary Slattery of Venture Manufacturing Group, Inc. – it's an entire company culture.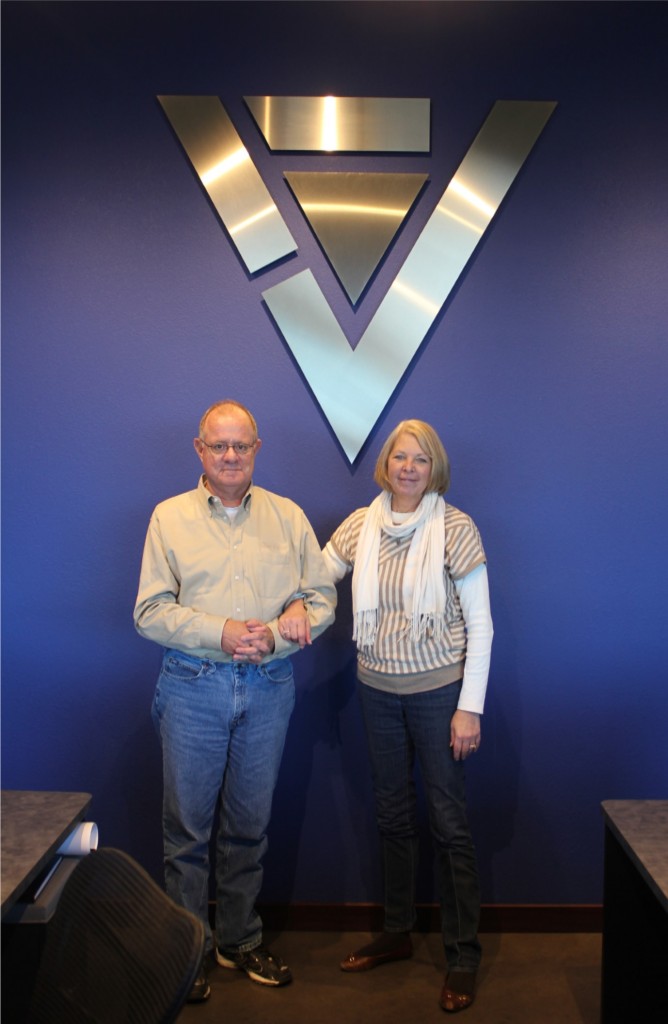 In 2005, Jim left his job as a general manager at a large metal fabricating company to pursue a dream of owning his own company and operating under lean manufacturing principles. Jim and Mary bought Precision Metal Fabricating – a failing metal fabricating company whose customers were running for the door. The Slattery's renamed the business Venture Manufacturing Group, Inc. and began operations with just seven employees and only netting $37,000 in sales their first month.
Mary describes their building on Green Valley Road in Beaver Dam as "worn out and tired inside. It was dark, dirty, sooty and needed paint." But the building wasn't the only worn out part of the business. At the time Venture Manufacturing took over, Precision Metal Fabricating was projected to be bankrupt in just six months. Jim and Mary had their work cut out for them.
Jim began updating his equipment and the failing business practices of the former company. He instituted lean manufacturing techniques – a practice Jim explains as "making today what you will consume tomorrow." Lean manufacturing means the facility is well organized, waste is reduced, set up times are optimized, and efficiencies improved.
"In a lean culture, you have to become better at what you do and more efficient, because your product is being made in small batches, with less waste, so you can be more profitable," explained Jim. In his previous manufacturing experience, Jim says that tens of thousands of dollars would be wasted in inventory when large quantities of product were made and then sent to sit on shipping department shelves – hoping to be ordered.
At Venture Manufacturing, when a customer orders 30 pieces, the business makes and ships 30 pieces. Not only that, says Jim, "We don't make a bad product." Quality controls are set ensuring their cost of quality continues to stay at less than a tenth of a percent of sales.
Quality is not the only factor that sets Venture Manufacturing apart from the competitors that Jim says are "everywhere in Wisconsin." Last year, Venture moved its operations from 32,000 square feet on Green Valley Road to 100,000 square feet of floor space at the intersection of County Road B and Hwy 151. And the old Home Depot building has never looked so good. Repurposing the space by changing the exterior (goodbye orange walls!) and adding offices, conference room space, lobby and a display room has allowed Venture Manufacturing to provide a bright clean facility for employees and customers alike.
"Customers appreciate that our building is clean and organized," said Jim. The new facility is not sooty or dark. Jim and Mary have incorporated the use of powerful dust collection systems to keep it that way. The business has been ISO (International Standards Organization) certified since 2009 – a compliment Jim and Mary say belongs to their employees. "We've had two employees with us since the very beginning," they explained. And their Vice President of Operations, who started with Jim, at his former employer, as a welder, "he knows everything about the business," said Jim. The couple credits their staff and factory employees for achieving and maintaining the certification.
"Our employees are very talented, energetic and hard working," said Mary. "They are not just here to punch a clock; they stay as long as they need to get the job done." Mary and Jim's roles within the company have changed over time. Jim is the CEO but says he is mostly hands off in day to day activities. He still oversees all departments, is active in sales and estimating. "I'm the hovercraft," he says. Mary, who started as a volunteer for the company by filing documents, now handles the Accounts Payable, Accounts Receivable, Human Resources, Benefits, Payroll and 401K of the company.
With all their success in recent years, Jim and Mary make a point to recognize those that helped them achieve their goals. "If it wasn't for Horicon Bank and Terry O'Connor, we wouldn't be here today," said Jim. When the couple was looking for financing to start Venture Manufacturing, many big banks turned them down. But Jim says Terry took their business plan seriously. At Venture Manufacturing's open house earlier this year, Jim invited Terry to speak. Terry told attendees that he was not only impressed with the business plan but Jim's extensive background and passion for the business.
"We've had so many road blocks to overcome," said Mary. "But we've found ways to overcome them with good people like Terry to help us."