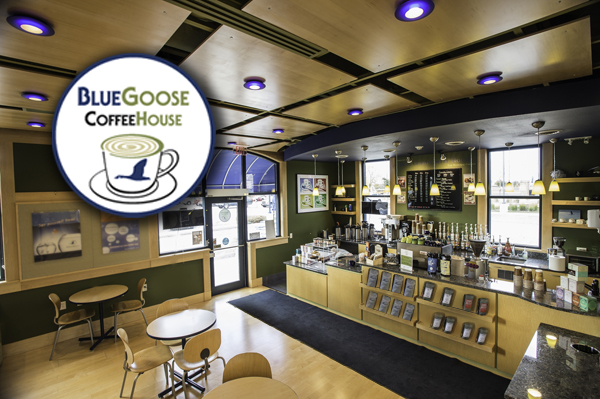 The Blue Goose Coffee House Story
The Blue Goose officially took flight in December of 2006, but its journey started long before then.
The idea of putting a coffee house inside a bank was uncharted territory for banking, but after a visit with his son to the Coffee Museum in Leipzig, Germany, Bank President Frederick F. Schwertfeger incorporated the idea into his dream for Horicon Bank.
Schwertfeger eventually got the whole family involved. Ruth Schwertfeger, Fred's wife, and his daughter Alex helped create the Blue Goose brand. And the dream Schwertfeger hatched began to grow.
The Blue Goose Coffee House has formed and grown its own client-base - beyond just Bank customers. Besides offering coffee, Italian sodas, smoothies, and baked goods, the Blue Goose's comfortable atmosphere and wireless internet access allow for a space for customers to relax and even work.
"We wanted to make the banking experience more enjoyable and customer-friendly," said Schwertfeger. "By putting our coffee house near three college campuses and making it open to the community, we have been able to accomplish that goal."
Truly focused on the local business and community, the Blue Goose Coffee House proudly serves Black Waters Coffee, roasted right in Beaver Dam, Wisconsin. In fact, Black Waters Coffee created Horicon Bank's Blue Goose Blend exclusively for the Blue Goose Coffee House.
So migrate over to the Blue Goose Coffee House today! Your first cup of coffee is a part of a dream that has taken full flight at Horicon Bank. And check us out on Facebook for regular updates about the Blue Goose!
Blue Goose Coffee House Location & Hours
854 E. Johnson Street
Fond du Lac, WI 54935
920.922.3727
Monday - Friday
6:30 am - 12:00 pm