Join the Team
As a Horicon Bank associate, you are joining a team of caring individuals committed to the success of their customers and communities. Check out our latest career opportunities and learn more about what it's like to be a part of the Horicon Bank team!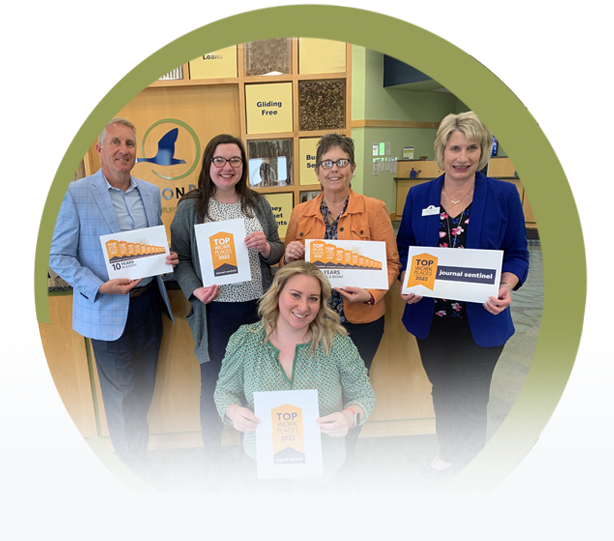 Why work at Horicon Bank?
"We have so many long-time employees that I've had the privilege to work with and that are now going into their tenth year, and I'm proud of that. Maybe they start as a teller but end up in Marketing. Or start as teller but end up in a Finance position. That shows Horicon Bank is a caring bank that gives opportunities for their employees to really grow within the bank."
— Cindy Kooiman, Horicon Bank associate in Beaver Dam
"As an independent bank, what makes us different from our competitors is our employee ownership. The two most important people in your business are your customers and your employees. And if you're taking care of your employees, ultimately, your employees will take care of your customers. Today, as an owner of the bank, we are putting our best foot forward by creating a terrific customer experience. And the bank has given a commitment to us as employees by giving us security in retirement as a Horicon Banker."
— Dale Hans, Horicon Bank associate in Fond du Lac
"We're a team. All of us care. We're a part of our community. Not only do we provide donations and support the library, the Opera House, the downtown, and the Legion, but we also take care of their home needs and business needs. That's my favorite part of what I do every day."
— Helcia Bierman, Horicon Bank associate in Green Lake
What does it mean to be a Horicon Bank Associate?
Learn more about the Vision we live by, the Mission we strive to achieve and the Virtues we practice each day.
What kind of benefits do we offer?
Competitive benefits package
Paid time off
Paid volunteer hours
Health, dental and vision coverage
Candidate referral program
Employee wellbeing program, including fitness club reimbursement
Employee stock ownership plan
And more!