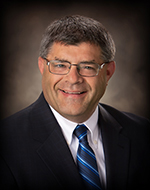 Chris Berens - Vice President, Trust Officer
With over 25 years of experience in the trust and financial industries, Chris is involved in the management and day-to-day operations of Horicon Bank Trust Administration services, including direct client contact. Prior to entering the trust industry, Chris worked at the Board of Trade in Chicago as a balancer of positions and money in the futures industry.
Chris' background in trust administration, trust operations, ERISA retirement plans and business development is important as Chris provides administration services and solutions to individuals and families as they look to design their estate plans. In addition to his extensive efforts in Wisconsin, Chris looks forward to continuing his strong relationships by offering trust services throughout the Midwest.
Chris is well known for his commitment to service along with his comments about the trust industry being an "integrity business." Chris enjoys working with families to discuss how corporate trustees can provide solutions for their loved ones. Like Chris often says: "Impartial corporate trustees preserve enjoyable holiday moments for families and help them avoid friction that could arise from having to make difficult trust distribution decisions."
Non-Profit Involvement
Advisory Council Member Family Services of Waukesha
Past President, The Volunteer Center of Waukesha County
Former Executive Committee Member, United Way in Waukesha County
Education
BBA, University of Wisconsin- Milwaukee (cum laude)
Certified Trust and Financial Advisor (CTFA)
Accredited Investment Fiduciary, AIF® Center for Fiduciary Studies
Cannon Financial Institute and American Bankers Association - Trust Schools and continuing education programs