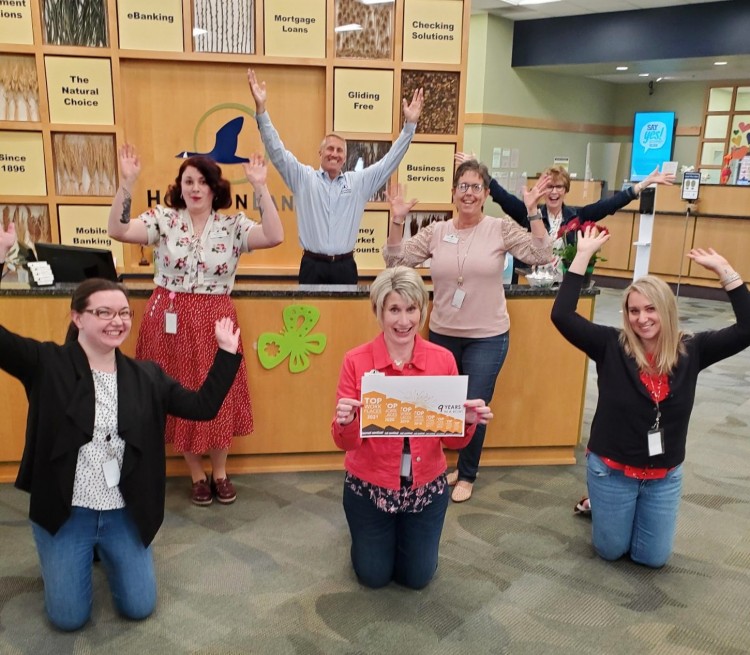 For the better part of a decade, our employees have consistently earned the right to call Horicon Bank a Top Workplace in the state of Wisconsin. And this year, we get to add that title for a NINTH year in a row!
Where does that title come from? Each year, the Milwaukee Journal Sentinel ranks Wisconsin employers based on results of an extensive survey process conducted by Energage, LLC. The list of Top Workplaces is based solely on employee feedback. Participation is both optional and anonymous.
That means that in 2020, amid pandemic, lobby closures, remote work and the challenges that came with it, our employees remained positive and true to their mission – to be caring bankers in our communities and our workplaces.
Since this designation can only come from our employees earning it, we decided to ask them: What makes Horicon Bank a place where you want to be each day?
"I enjoy working at Horicon Bank because of the company culture which promotes a positive environment and energy from myself and all of my coworkers every day!"
-Matt Berg, Beaver Dam. Matt joined Horicon Bank in 2019.
"What makes Horicon Bank a great place to work is that it feels more like a family than a company. Horicon Bank cares deeply for both their employees and the people in their communities."
-Madi DeBoer, Markesan. Madi joined Horicon Bank in 2015.
"I'm fortunate to be rewarded for my loyalty and efforts through the inclusion of a generous Employee Stock Ownership Program. I can't think of a better way to attract and motivate employees, increase retention and productivity and provide a significant resource for retirement, ultimately creating a terrific place to work!"
-Dale Hans, Fond du Lac. Dale joined Horicon Bank in 1998.
"One of the things I love about working here is the way everyone is so community oriented. It is awesome to be a part of a work family that places such great value on serving our communities not only within the bank walls but outside them at various events as well."
-Mikaela Nummerdor, Horicon. Mikaela joined Horicon Bank in 2019.
"At Horicon Bank our guiding principles (CORE values) are a blueprint not only for how we interact with our customers and associates during the work day, but they represent the way we strive to live our lives outside of banking hours. From the top down, every employee understands and implements what we have learned during our lives, to treat everyone in every interaction exactly the way we would like to be treated."
Mike Fleischman, West Bend. Mike joined Horicon Bank in 2010.
"I feel appreciated at Horicon Bank. Our leadership works hard to make employees feel like part of the bigger picture. They help us feel secure in our roles. Some days, my work can be challenging, but it's rewarding to help customers find solutions to fit their lives. Not only do we make a difference in our customer's lives, we make a difference in our communities as well."
-Kay Schoep, Green Lake. Kay joined Horicon Bank in 2018.
Thank you, Horicon Bank employees, for making us a top place to work in Wisconsin. This award is for you!
Learn more about the Top Workplace Award and what it takes to be named a Top Workplace in Wisconsin.