We celebrated Veterans Day this year with a $25,000 announcement for the Honor Flight Network.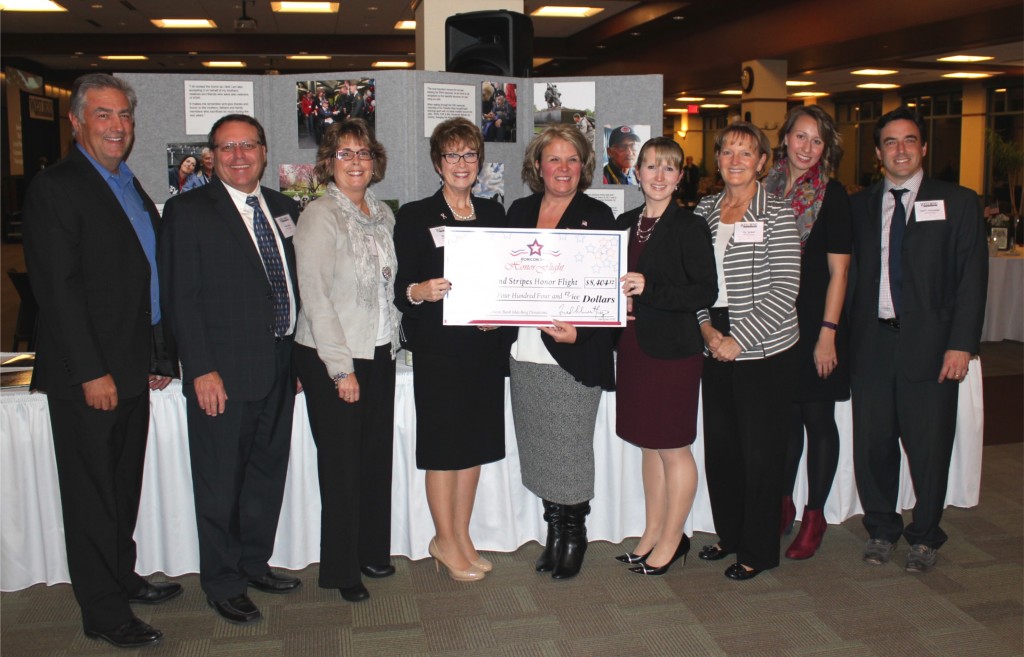 "This year we challenged our offices and communities to raise enough funds to send one veteran on the day-long trip to Washington, DC with the Honor Flight Network," explained President Fred. F. Schwertfeger. "As a bank, we promised to match up to the cost of one veteran per office and do the same if our employees raised a similar amount. Our goal was to send 30 veterans overall."
As a bank, we exceeded that original goal. We raised more than $17,600 through community and employee efforts! The Bank then promised to match up to $7500. That left us with a total donation of more than $25,000! The donation is enough to fund the trip for 50 local veterans!
"We are extremely humbled by the support of our patriotic communities for this cause," said Schwertfeger. "When we gave our employees this challenge, we had no idea how far they would exceed it."
Because our bank's offices spread across six counties, we split the donation between three local Honor Flight Chapters operating within our footprint.
"The donation is split between the Stars and Stripes Honor Flight, the Badger Honor Flight, and the Old Glory Honor Flight," said Schwertfeger. "By staying within the communities we serve, we hoped the funds raised would be able to help those veterans that are our friends and neighbors."
Fundraising began for our Horicon Bank Honor Flight Campaign back in May of this year. Our offices hosted community shred days, brat frys, bake sales, a music concert and even a 5K run/walk to raise awareness and donations. Employees themselves gave over $800 through bank-wide fundraising efforts.
"The heart of this cause touches many individuals," said Schwertfeger. "Veterans are in our families; they are our friends. Being able to support them and give them this opportunity is our way of saying 'thank you for your service.'"