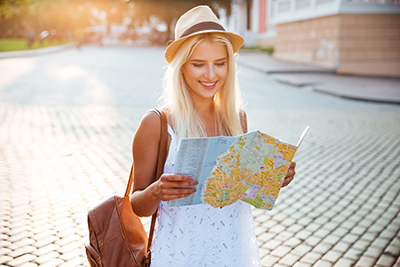 This time of year in Wisconsin, locals are looking to get out. Get out of the cold. Get out of the dreary weather. Get out of the state. But what if you have spring break dreams and a shoestring budget? Saving on travel really can be possible, if you know the tricks.
Know The Right Time To Travel
If you're not tied to a strict time frame, consider traveling mid-week. The price of flights can vary month-to-month, day-to-day and even hour-to-hour. Consider flying out on a Wednesday instead of a Friday to avoid higher priced flights.
Keep Your Travel Searches Secret
When using multiple travel websites to find the best price, set your web browser to incognito or private browsing mode. Some sites will use the cookies in your browser to see if the same flight route has been searched multiple times and will increase the price of that flight. This tactic works to scare travelers into quickly booking a flight for fear the price will rise even higher.
Fly From An Alternative Airport
It may take a little longer to drive there, but flying from an airport a little further out, might help you save on flight costs. When searching, consider multiple airports to find the best deal on flights.
Travel In Off Seasons
Do a little research to find the height of tourist season for your destination – and then avoid it. By traveling in off seasons, you can avoid inflated prices and crowded destinations.
Book Airport Parking Ahead Of Time
Planning to leave your car at the airport while you're away? Book your parking ahead of time to save a little cash.
Pack Light And Weight Your Bags At Home
Avoid overpacking to save on airline luggage fees. If possible, wear extra items onto the plane to save on space in your suitcase. And make sure to weigh your bags at home to avoid any additional charges at the airport.
Pack Your Own Snacks
Although you can't bring foods that are liquids (yogurt, soup, etc.) onto the airplane, you can bring your own snacks or sandwiches. Brown bagging your own snacks can save you from paying an arm and a leg at the airport or on the flight.
Use Budget Friendly Apps and Websites
Flight search engines like Skyscanner, AirFare Watchdog, Kiwi.com and JetRadar can help you find cheap flights by searching multiple destinations, airports, budget airlines and recommending the cheapest times to fly. Once you've reached your destination, be sure to use apps for travel guides, tours, maps and restaurant recommendations – all can help you save money after you've gotten off the airplane.
So get out! Pack your bags with a few helpful travel tips and enjoy a little sunshine. Or backpacking. Or site seeing. Or whatever your (budget-conscious) traveling heart desires!