"When I grow up, I want to be a banker." Said no little girl. Ever.
Finance may not top the list of female dominated industries, but at Horicon Bank women make up 70% of the staff. Although they may not have dreamed of working in the financial industry, each woman at Horicon Bank has a story.
Meredith Strieff – Personal Banking Officer, Branch Manager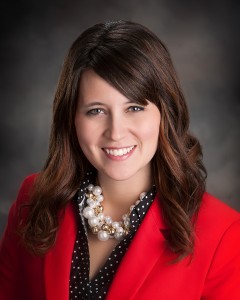 After graduating from UW-Green Bay with a degree in business, Meredith Strieff moved to Horicon and started working as a part-time teller.
"I'm Horicon Bank born and raised when it comes to my banking experience," Meredith laughed. "I really became a banker by accident eight years ago."
Starting out just a few hours a day on the teller line, Meredith eventually became a Customer Service Representative, a teller supervisor, a Personal Banker, an Assistant Branch Manager and is now a Branch Manager of three offices in Horicon, Iron Ridge and Neosho.
Meredith says that as a Branch Manager she still enjoys customer interaction while helping to support her team.
"It's all about empowerment and helping others reach that next step," Meredith said. "I enjoy seeing others succeed and asking 'what can I do to help you do your job better?'"
As a busy mom of three boys (ages 9, 7 and 3), Meredith says raising a family and advancing in a career is made easier by the support of her employer.
"Horicon Bank is extremely family-oriented," said Meredith. "It's easier have the ability to balance a career and family when you have that kind of support. I also have a fantastic support network in my husband and extended family. And I work with people I trust to get stuff done. I don't have to hover and I don't want to."
Within the community, Meredith sits on the Board of Directors for the Horicon Booster Club and volunteers at bank-sponsored community events, even organizing this year's Horicon Bank 5K Run/Walk for the Red, White and Blue.
"You can tell in your conversations with employees that they care about what is going on in the community," said Meredith. "The Bank itself gives back, but employees are also very involved. If you look closely enough, you'll see Horicon Bankers out there – just being who they are by helping their community."
Meredith says that the personal banking role benefits from knowing just who they are helping, and the best way to build a relationship isn't always from behind the teller line.
"We're always making connections," explained Meredith. "The more involved you are, even just by attending a high school football game, the more your customers see you as a real person – someone they trust."
Gale Nummerdor – Vice President, Mortgage Loan Originator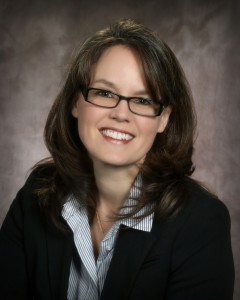 Gale Nummerdor graduated college with a degree in Communication and a minor in Business, but her education did not stop there. After working as a Finance Manager for a local auto dealer, she earned three lending school certifications with the Wisconsin Bankers Association and four banking diplomas with the American Institute of Banking while working in various departments within the Horicon Bank family.
It's safe to say, Gale is one banker who knows what she is doing.
"The title 'Mortgage Loan Originator' doesn't characterize the full scope of what we do," explained Gale. "We provide guidance to assist customers with choosing the mortgage, or non-mortgage, product or program that best meets their needs. We offer mortgage programs for first time home-buyers, like WHEDA and USDA; as well as standard conventional fixed rate and ARM mortgage products for both purchase and refinance. We offer a range of home equity loan products, Home Equity Lines of Credit, as well as other non-real estate consumer loan options, like vehicle loans, personal loans, and personal lines of credit."
Gale says she enjoys being able to help people purchase their next, or first, home. Although some may perceive purchasing a home as stressful and overwhelming, it doesn't have to be.
"It can be intimidating to purchase a house, but it doesn't need to be difficult," Gale explained. "We try to remove the stress from the process; instead making it fun and simple to understand. My greatest success is when a new customer was referred to us by someone who felt their positive experience was worth sharing. 'She made it easy' is the greatest compliment."
In addition to helping customers, Gale is a member of the Beaver Dam Rotary Club, past board member for the Dodge County Humane Society, and participates in events sponsored by the Beaver Dam Chamber of Commerce.
"We play a vital role as a community bank," said Gale. "We are connected to the people we serve; when they walk into Horicon Bank, they are more than an account number. I work hard to make sure customers know that I will be there, and accessible, when they need me. And we can do that because we work for a bank that actively promotes employee involvement in our local community."
As the real estate market continues to level out, Gale is finding some time to get away from the office and help define a work-life balance.
"You need to decidedly make the effort to give yourself time to recharge," she explained, "if you take time to do that, you can give 100% of yourself when you are working".
Jenny Muche – Electronic Banking Officer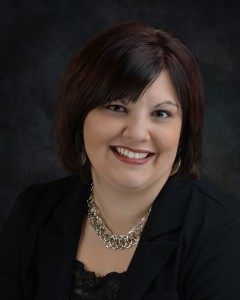 "I never finished college," said Jenny Muche. "I started at UW-Fond du Lac but didn't know what I wanted to do. I switched to studying Business at Moraine Park but decided to take some time off. When I left Moraine Park I was actually majoring in Mechanical Design."
After deciding to take time off, Jenny switched her focus to banking and hasn't looked back to Mechanical Design since.
Jenny started at a community bank as a teller and after three months moved into the bank's bookkeeping department. "It was a small bank," Jenny explained. "In bookkeeping, we did a lot of back office functions including accounting, electronic banking, putting loans and new accounts on the system, wire transfers, and cash letters. I really got to know how a bank works."
During her time learning back office functions, Jenny earned her AAP (Accredited ACH Professional) Certification from the National Automated Clearing House Association. She later accepted a position at the Wisconsin Automated Clearing House Association conducting training, risk assessments and audits on electronic banking. She earned her National Check Certification and in 2012 came to work for Horicon Bank.
"I didn't know I was going to be a banker, but I loved my job," said Jenny. "And everything grew from there."
In her current position, Jenny manages the bank's eBanking Department and Customer Support Center.
"These two areas are the virtual branch of Horicon Bank," she explained. "We conduct a majority of the non-face-to-face interaction with customers."
Jenny's husband is on the Horicon Chamber of Commerce and much of their time volunteering is spent supporting local Chamber events. They have three boys (8-years-old and twins age 5), and Jenny says she appreciates the flexibility Horicon Bank provides to be able to balance work, family and community.
"The Bank is supportive of all our communities, and the organizations and events that benefit those communities. Horicon Bank is an asset to making our community better and a better place to live."
Jenny may not have planned to be a banker, but her hard work has earned her success in the financial industry. For professionals looking to advance in their careers, Jenny advises, "Never stop learning. Take advantage of professional development opportunities, get involved on different projects or committees within your organization or try new challenges that stretch you."
Maybe little girls don't grow up dreaming of being bankers, but the women of Horicon Bank have shown that doesn't define their ability.
"The sky is the limit for women in banking," said Gale Nummerdor. "We have a great opportunity to showcase our talents. If you are dedicated, you can go as far as you want."
A copy of this article first appeared in the December 2015 edition of Inspire Magazine.