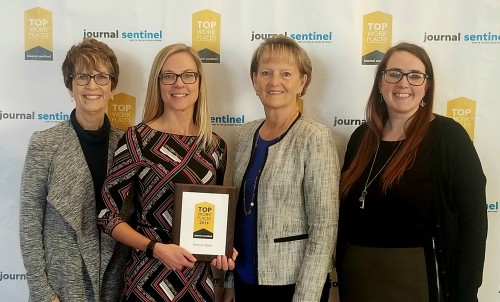 October is National Employee Stock Ownership Plan (ESOP) Month! It is a time to share and celebrate companies that are employee owned. Horicon Bank has been partially employee owned since 2006. There are only a few hundred ESOP companies in Wisconsin and only 7,000 in the entire United States.
An employee stock ownership plan is when employees own shares in that company, through a profit-sharing plan or through direct stock purchase options. Owning shares does not necessarily give the employee the right to vote on primary decisions of the business, but it provides a sense of ownership in a different way. Employee owned companies have shown increased productivity, higher profitability and overall retention.
As employee owners, we have a vested interest in the overall success of the Bank. You are more likely to know the banker you are working with at Horicon Bank, than a Wall Street owned bank. The energy for the success of Horicon Bank is passed along to our customers in many ways. It is ensuring that our customers have the best banking experience possible. It is making sure that we have the products and services to fit their needs.
The ESOP is also a way to attract top talent. Horicon Bank has been named a Top Workplace by the Milwaukee Journal Sentinel for eight consecutive years; the feeling of ownership amongst employees has helped obtain that achievement. The employee ownership is a way for the bank to contribute to our employee's retirement. The benefits of an ESOP continue long after the career of our employees.
Here's Dale Hans to explain how when we value our employees, our employees, in turn, take care of our customers.