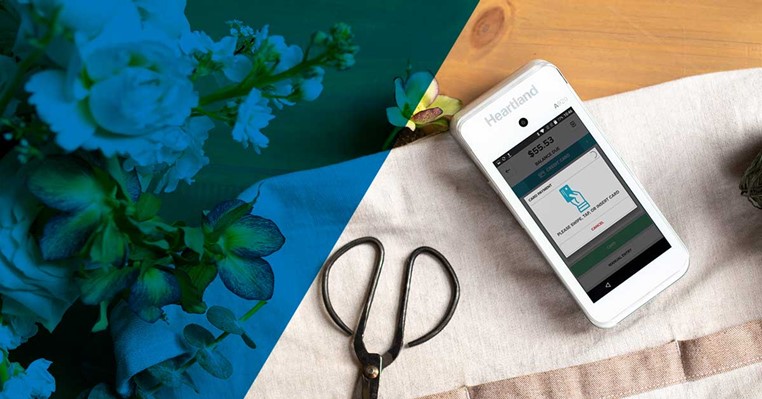 Having the right tools to run your business isn't just a convenience; it makes a difference. For example, owning a swiss army knife enables you to do lots of things faster and better than a dull butter knife.
Now apply that principle to the way you do business today. Do you manually track inventory with pen and paper? Can you accept digital wallet payments with your current terminal? Are you calculating sales tax on another piece of equipment? Are you handing out written receipts?
The latest terminal technology rolls multiple functions into one device so you can more quickly get everything done. Here are five ways it can help you grow your business.
Frees valuable space on your counter
Connected by Wi-Fi, Terminal+ cuts the cord to become your center of commerce on both sides of the counter. Great for businesses with limited countertop space, it's an all-in-one terminal, barcode scanner and receipt printer that fits in the palm of your hand so you can freely move about your store to checkout customers and work on back-office activities.
Unbinds you from inventory management
Say goodbye to the days of manual tracking inventory with pen and paper. With Terminal+, you can throw away inventory binders and automatically track how much stock you have in real time without lifting a finger. The built-in barcode scanner speeds up the checkout and eliminates tracking errors, so you never run out of favorites.
Creates better checkout experiences
Customers expect a safe, seamless in-store checkout experience. So give it to them with Terminal+. Accept contactless payments like Apple Pay, Google Pay and Samsung Pay, or swipe and dip card payments. It's a welcome surprise when you can meet customers to check them out and provide a receipt on the spot instead of sending them to the counter to pay for purchases.
Makes sales less taxing
Keeping track of changing state and local sales tax is a thing of the past. Terminal+ intuitively calculates sales tax on transactions, so you stay compliant and get a leg up on filing.
Protects your brand and profits
Minimizing payment acceptance costs and fraud puts more money in your pocket. Terminal+ transactions are protected by Heartland Secure™, the highest level of credit and debit card security available, to guard your business and your customers' card information. With that kind of protection, you can sleep better.
Terminal+ is a terminal, receipt printer, barcode scanner and back-office manager rolled into one handheld device. Connected by Wi-Fi, it allows you to cut the cord and get everything done faster. It gives you the freedom to run your business while you roam your business. And that leaves more time to focus on growing your business. Learn More about Terminal+
About Heartland
Heartland provides entrepreneurs with software-driven technology to manage and grow their business. The company serves more than 400,000 merchants nationwide, delivering trusted solutions for payment, payroll and human resources, point of sale, customer engagement and lending. Heartland is a leading industry advocate of transparency, merchant rights and security. Heartland is a Global Payments Company (NYSE: GPN), a Fortune 500 Company. Learn more at heartland.us.