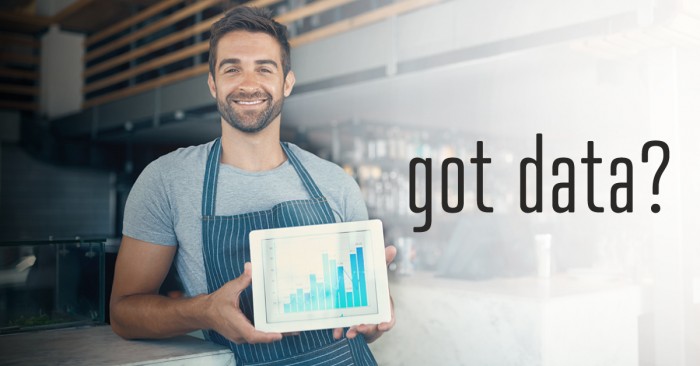 Four Ways You Should be Using Data to Grow Sales
Personalization is the buzzword of the 21st century. Everyone wants to feel like what they're getting was made for them. Enter data-driven marketing. Data-driven marketing uses the information gathered in-store, online and from your mobile app to personalize future interactions with customers.
By uncovering habits and trends in sales data, you can customize interactions, customer experience and loyalty programs to make your customers feel more connected to your brand. You can leverage this "voice" of the customer to grow sales in four ways:
Customized offerings
The key to business success is repeat purchases. For existing customers, you want to shorten the interval between visits and you want to incentivize them to spend more when they come in.
You can accomplish this using data about who your customers are, their preferences and which items they purchase in conjunction with other items. Using this intelligence, you can customize special offers. Additionally, you know how frequently customers visit and how much they tend to spend. This enables you to target premium customers with personalized loyalty rewards to bring them back more often. You can also lure less frequent customers with discounts on popular or new items.
Improving the customer experience
By analyzing customer behavior, as well as reviews and feedback, you can create a tailored customer experience online and offline. Nearly 65 percent of consumers want personalized offers from retail brands, so give it to them. Purchase history reveals what products a shopper buys most often or finds interesting. Armed with this information, you can and make relevant and compelling recommendations to customers. For example, when a customer orders a product online, you can increase cart value by suggesting additional products that sell well together. When customers feel like they are winning – instead of simply shelling out more money – you're winning too.
Traffic Patterns and Staffing Adjustments
Sales data tells you what your busiest parts of the day and week are, as well as whether customers are being serviced in a timely manner, and which team members do the most upselling. Nearly 6 percent of all possible sales are lost because of lack of service. Do you have enough people on the floor to help all of your customers at any given time? Be sure you're optimizing your top performers in the work schedule. You may find that your top upsellers can boost sales during both busy and slow times, while also reducing your overall staffing needs on the floor.
Optimize your inventory and stock levels
Almost half of small businesses don't track inventory or use a manual method. Stay on top of stock levels. Out of stock situations during a promotion lower customer experiences, and can even cost you potential sales. Make sure you have enough merchandise to meet customer expectations. Speedy delivery is something that consumers have come to expect. You truly delight customers by providing the products they want at the most appropriate time.
The true power of data emerges when it is fully integrated into your marketing plans. Using data you already have at your fingertips, you can personalize your interactions with customers to improve sales.
About Heartland
Heartland provides entrepreneurs with software-driven technology to manage and grow their business. The company serves more than 400,000 merchants nationwide, delivering trusted solutions for payment, payroll and human resources, point of sale, customer engagement and lending. Heartland is a leading industry advocate of transparency, merchant rights and security. Heartland is a Global Payments Company (NYSE: GPN). Learn more at heartland.us.