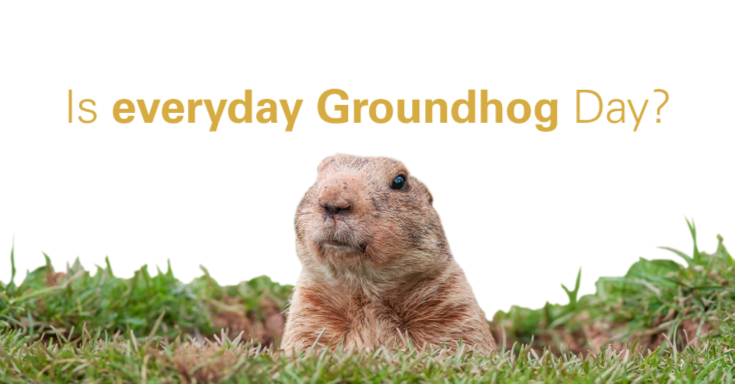 Each February, we gather to see if Punxsutawney Phil emerges to see his shadow. But it's our own shadow we can't seem to avoid year after year. We repeatedly fall victim to the same traps as Bill Murray did in the movie "Groundhog Day."
Break the cycle this year! Don't repeat these six common business mistakes.
1. Having the wrong tools
Say "goodbye" to equipment that makes your job harder. Keeping around a point of sale system that is difficult to use and undependable will negatively affect staff and customer experiences. With a modern point of sale, you can instead take your business to the next level. Today's cloud-enabled POS technology is simple to set up and even easier to use with minimal training. Your business will run more efficiently, and you'll enhance customers interactions with your business.
2. Waiting too long to secure financing
Cash flow worries is one of the biggest reasons why businesses don't achieve their goals. Business owners need to purchase equipment, add inventory or staff, or invest in marketing, but uncertainties about cash on hand put the brakes on their plans. Avoid this by taking steps to secure capital early while your business finances are in good shape. Secure a loan or line of credit before cash flow slows will help you meet expenses and aspirations until cash flow resumes.
3. Failing to invest in marketing
Too often the task of promoting a business slips to the bottom of the owner's long to-do list. Yet, the biggest mistake you can make is assuming you don't need to market and that business will come to you. If you want to attract new customers, you have to make promotion a priority. It's not enough to create a marketing budget and try a little bit of everything. To successfully connect with customers, you need to know their needs, likes and dislikes. Data from your POS, guest app and online checkout will help you identify who you are trying to reach, where you can find them and how they will react to your marketing activities.
4. Not having an online presence
It's crucial for your business to have a website. Yet, nearly half of small business owners don't have one. Without one is akin to starting a business, but not bothering to tell anyone about it, or not putting a sign outside your store. In today's digital world, your website is your business card. It legitimizes your business in the eyes of potential customers by providing them with information about your business and what you can do for them. If consumers search for your business online and you don't have a website, you have zero chance of showing up in Google search results.
5. Waiting too long to hire
Delays in adding staff and rushing through the hiring process are common mistakes that can hurt your business. If you don't hire the help when you need it, or hire the first candidate you meet because you're swamped, you'll end up with more headaches than help. Consider temps, freelancers, virtual assistants, and part-timers as alternatives to full-time employees if your budget is tight. Waiting too long to hire, puts your business at risk of missing out on new opportunities because your understaffed team isn't equipped to handle growth.
6. Working with the wrong partner
Let's face it, running a business is hard. It's essential to get the best allies on your side, pulling the same direction. You will have purchasing decisions, issues or questions that require the help of your technology provider. Thus, it's important to work with a partner who understands your position in the market, your business goals, and has a clear idea of the kinds of tools your business needs to achieve its objectives and remain competitive within the industry. The right partner will promptly, honestly and transparently work on your behalf to support your best interests. If you don't hear from your current partner except for when you want to buy equipment and business software, it's time for a change.
About Heartland
Heartland provides entrepreneurs with software-driven technology to manage and grow their business. The company serves more than 400,000 merchants nationwide, delivering trusted solutions for payment, payroll and human resources, point of sale, customer engagement and lending. Heartland is a leading industry advocate of transparency, merchant rights and security. Heartland is a Global Payments Company (NYSE: GPN), a Fortune 500 Company. Learn more at heartland.us.