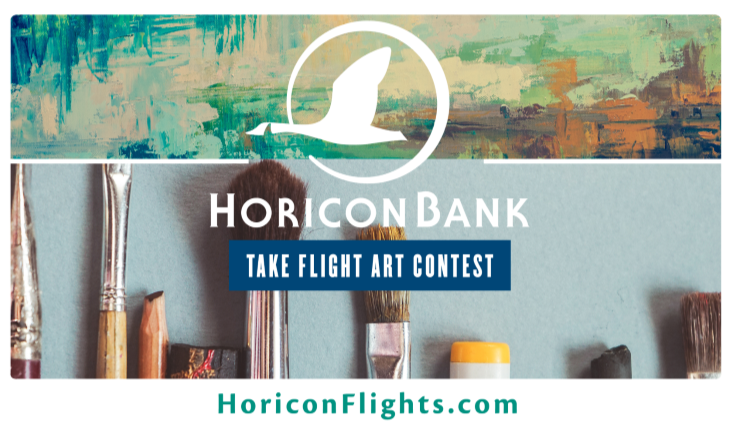 Horicon Bank has always had an appreciation for style, design, creativity, and the arts. Our founder, Daniel Van Brunt designed the first seed-drill, which enabled early twentieth-century farmers to plant their grain seed effectively. After the bank was founded in 1896, it needed a building to convey strength and stability, so Van Brunt's son-in-law, AW Wilcox, hired the Milwaukee architect, Hermann Buemming who had a pedigree of working with famous architects. Buemming's building just celebrated its 105th anniversary and recently earned recognition by the Department of the Interior on the National Register of Historic Places.
Horicon Bank has continued a tradition of award winning architecture with its mostly recently built branch in Oshkosh. Our Oshkosh branch has a specially commissioned glass sculpture, by a celebrated local artist Michael Meilahn. There are also examples of glass art by Steve Feren, hanging in our Beaver Dam office.
While researching our Horicon Bank building's history, I encountered wonderful photos from the style of the early 1960s and later. In Horicon Bank's walls and closets are mementos of the style of different times, flame-resistant polyester business apparel on hangers from the 1980s, and, of course, many pictures of geese and ducks. These last few months we potentially will refresh those pictures, having celebrated our local artists with an art contest using the theme: "Take Flight." Artists overwhelmed us with their response to this contest with unique depictions of "flight, receiving over 250 responses from youth, amateur, and professional artists alike. Our team of judges is comprised of six employees with a variety of art interests and backgrounds, and an external judge, Kate Salas, who is well acquainted with the arts in Wisconsin.
My studies of art history shows me the large-scale effects the arts has on culture and economies. The arts foster the imagination and creative thinking that can help us solve challenges like the ones we face during this pandemic. Recently, I served on the Wisconsin Arts Board for six years and just finished my term. The Arts Board reports to the Governor under the Department of Tourism. Wisconsin now ranks last for public art spending. There may be differing political points of view on the pros and cons of that fact, but we do know that the arts are a great way to attract and retain young talent who want to live in a community.
While on the Wisconsin Arts Board, I was able to see all the good work many arts organizations do in our state to benefit their local economies. Proudly, Horicon Bank has a history of support for many of them, especially in our footprint. These organizations will face challenges in a social distancing world, so please consider ways to engage with these organizations and support them. One of the significant arts organizations is the Museum of Wisconsin Art in West Bend which is an amazing treasure of Wisconsin's greatest art works. I was a privileged to serve on their board for nine years. Horicon Bank was a major donor, and has a named gallery for contemporary artists.
The Thelma Center for the Arts in Fond du Lac is another wonderful venue for concerts, art classes, and the visual arts. Art exhibitions there are free to the public thanks to Horicon Bank's support.
The Thrasher Opera House in Green Lake is another good example of a small community supporting the arts. My colleague, Helcia Bierman, has been a board member there for several years. Green Lake itself is an incredibly vibrant cultural small town in the middle of Wisconsin, also supporting the wonderful programs provided by the Green Lake Festival of Music.
Another Wisconsin treasure is Neenah's Bergstrom Mahler's Museum of Glass. Wisconsin happens to have an important role in the development of glass as an art medium. Horicon Bank has been a supporter of several events at the Bergstrom over the years.
Also within Horicon Bank's footprint in Oshkosh is the Paine Center Art Center and Gardens. A few years ago, Horicon Bank was the lead sponsor of an exhibition by the well-known naturalist John James Audubon. Many of our art submissions seem inspired by Audubon's work!
Some of the other art groups we have supported include Waupun Fine Arts, Beaver Dam Area Community Theater, and Horicon Phoenix's Concerts in the Park, the Ripon Summer Concert Series, and Art Walk West Bend.
Although there are many other art events and venues I could reference within Horicon Bank's footprint, I should mention that you could have both a great natural experience and artistically inspired experience at the Horicon Marsh Education and Visitor Center and their "Explorium" exhibit. Their "Flyway Gift Shop" supports the Friends group, which also holds art exhibitions. You could own your very own print by Beaver Dam's own, Owen Gromme, one of the greatest wildlife painters ever.
Back to our "Take Flight" art competition, it was an impossible task for judges to select the three best works of art and then ask the public to choose a winner for a major prize. Some of the artists we left out of the top three are well-regarded local artists for whom I have a lot of respect, so it was painful not to include everyone for the top prizes. We are so glad, though, that we can share all these works on facebook and appreciate all the creativity and artistic ability that surrounds us here in Wisconsin. Thank you all who submitted work and voted! Thanks for considering Horicon Bank and let us know how we can help you.
Fred C. Schwertfeger
Senior Vice President