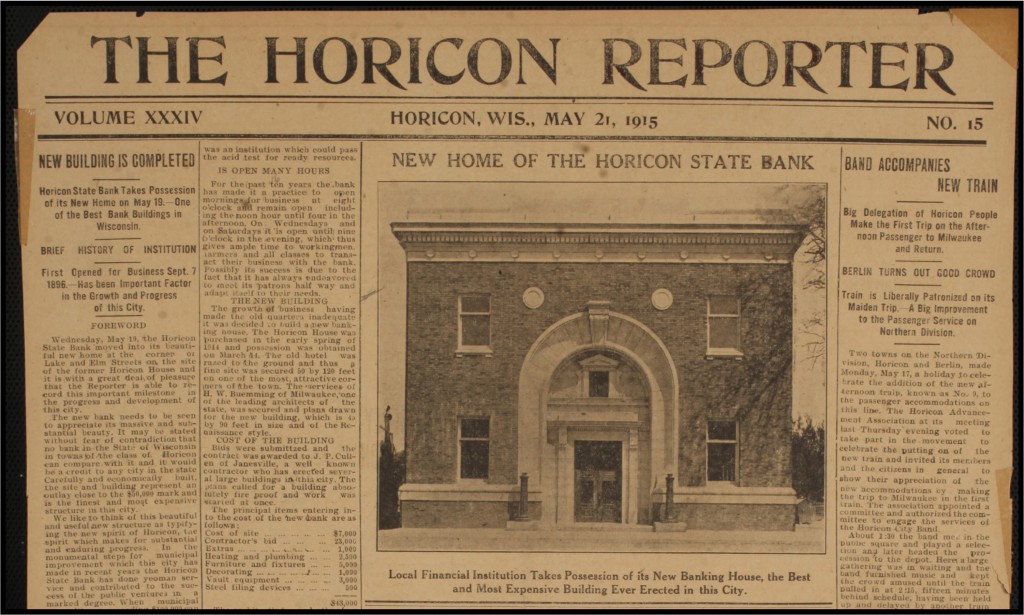 Horicon Bank's building headquarters is celebrating 100 years on East Lake Street in the city's downtown.
Although Horicon Bank was established in 1896, its home office building wasn't built until 1915. The building hosts 100 years of community history inside its brick walls. The office once housed a post office, a Masonic lodge, and offices for the local doctor, lawyer, insurance agents, as well as attorneys – all in addition to the bank.
To celebrate this centennial milestone, an entire week of events is being planned. Each day the bank will feature lunchtime discussions about the history of the building and community. Old coins from the period the bank was built will be on display and community members can stop in the office to have their own coins evaluated. The biggest event happens on May 19th, the building's official anniversary date, which will be celebrated with an old-fashioned street party.
"On Tuesday night we will be closing Elm Street, just east of the bank, for a community-wide centennial anniversary block party," said President Frederick F. Schwertfeger. "Sticking with a 'Roaring 20's' era theme, we'll be serving frankfurters, popcorn, sarsaparilla while listening to live music, and plenty of fun activities for the community to enjoy."
Schwertfeger said that if the community couldn't make it to Elm Street on Tuesday, they can still celebrate all over town.
"Our bankers will be hiding 100 special Horicon Bank piggy banks around Horicon as a type of scavenger hunt," said Schwertfeger. "Each piggy bank will have a message inside. If you find a piggy bank and bring it into our Horicon office on Friday, you can redeem your message for a special prize. And each person that redeems a message, will be able to enter a drawing for a top prize of $100."
Celebrating with the community was central to the 100th anniversary plans.
"Our community has supported our small business for nearly 120 years," said Schwertfeger. "This is just one small way to say 'thank you' for that continued support."
In planning for the week's special events, Horicon Bank staff made a few interesting discoveries including the original blueprints for the building, a bank ledger from 1915 and a Masonic journal. The discoveries will be on display for the celebration and will be the topic of a community lunchtime discussion at the bank.
Horicon Bank is in the process of applying to have its building added to the National Register of Historic Places. The architect of the building, Hermann Buemming has several buildings already listed on the National Register of Historic Places.