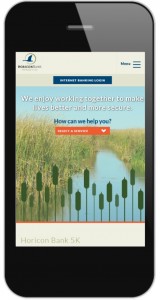 We made the list!
The Financial Brand, an online publication focused on banks and credit unions, recently ranked their top 25 most inspirational responsive banking websites - and Horicon Bank's site is featured.
A responsive website adjusts to the size of the device being used to view the site. The Financial Brand describes it this way, "If you're on a desktop computer, you can change the size of your browser window and watch the site scale and morph dynamically, seamlessly in real time. On a smartphone or tablet device, the site has already been programmed to display at the right size. This ensures everything looks right on any screen."
We went to the responsive design last year when we first launched our new site. Not only that, our entire site underwent a major redesign in look and feel. With the creative help of BrownBoots Interactive, Inc., we brought the personality of our offices to the internet - creating our own "virtual branch."