Horicon Bank made Veterans' Day just a little sweeter for local veterans.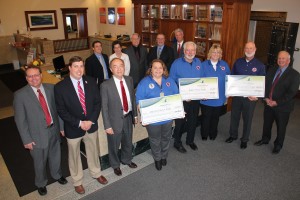 We presented three checks to three area Honor Flight Chapters in support of their effort to send veterans to Washington, DC on a one-day trip to see the national war memorials dedicated to the veterans who have served.
Our Honor Flight Fundraising Campaign started in May of this year. Each Horicon Bank office or market area was challenged to raise $600 for their designated Honor Flight Chapter. The bank then promised to match up to $600 of all donations.
We have some pretty hard working offices. They rallied for the challenge around ideas a 5K Run/Walk, Shred Day events, brat fry sales, soup sales, bake sales and more! In the end, they far exceeded their original goal.
The challenge came with a personal connection to our president.
"As a veteran myself, I was excited to fulfill this opportunity for other local veterans," said Fred F. Schwertfeger. "And we can't take all the credit. Each event our offices planned was focused on getting our community involved. Their support of our efforts made all the difference."
Because our offices are spread throughout six counties, we chose to donate to three local Honor Flight Chapters operating within our bank footprint.
"We presented checks to the Old Glory Honor Flight, the Badger Honor Flight, and the Stars and Stripes Honor Flight," said Schwertfeger. "By keeping within our footprint, we hoped the funds raised would be able to help those veterans that are our friends and neighbors – right in the communities we work and live in."
So what was our total?
Our branches and customers raised more than $13,700. With a $7,800 match, the full donation totaled more than $21,500!
A big "thank you" goes out to our communities for their overwhelming support. And an even bigger "thank you" goes out to the local heroes who have served and continue to serve our country.
For more information about the Honor Flight Network, visit www.honorflight.org.