Horicon Bank In Fond du Lac Celebrates Grand Opening!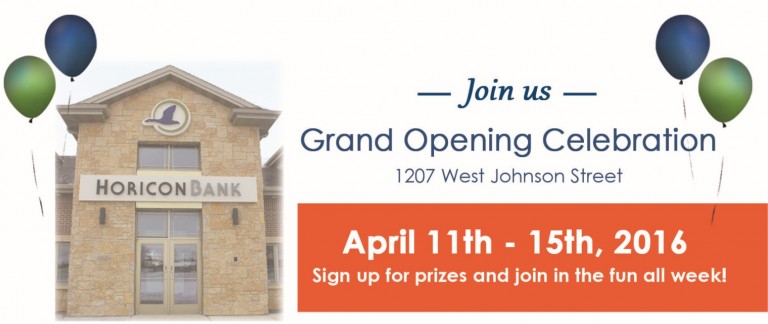 We've got a week long celebration planned for the whole community to officially celebrate the grand opening of our fifteenth Horicon Bank office at 1207 West Johnson Street in Fond du Lac. Want to know what's happening all week? Here's the scoop:
Monday, April 11 Cake and Prizes
Kick off our Grand Opening Week with cake and Blue Goose Coffee! Be sure to sign up for prizes all week long!
Tuesday, April 12 Senior Day with our Gliding Free Club
9:00am - 11:00am
Seniors - start your day with a light breakfast at Horicon Bank. At 9:30am, we'll learn to avoid financial scams from the Fond du Lac County Sheriff's office. We'll finish with a round of Fraud Bingo, and you'll get the chance to hear all about the adventures of our Gliding Free Club! Everyone is invited to join us from 11am-1pm for a relaxing chair massage from ideal Chiropractic.
Wednesday, April 13 Investment Services and Business Open House
10:00am - 2:00pm
Meet our new Investment Services Department, find solutions for your business, and grab a bite to eat from Casa Del Tequila.
Thursday, April 14 Kids Day and Ribbon Cutting
9:00am - 4:00pm
Join us for a fun-filled Kids day from 9am-4pm! Enjoy rootbeer floats, a coloring contest, games and prizes for kids of all ages! At 4:30pm, join us for a special Ribbon Cutting event with the Fond du Lac Area Association of Commerce!
Friday, April 15 Shred Day and Honor Flight Brat Fry
Shred Day: 10:30am-1:30pm
Brat Fry: 11am - 1pm
Bring in all your shreddable documents from 10:30am-1:30pm to safely dispose of them at our Shred Day Event. And stick around for lunch! Join the Honor Flight Brat Fry from 11am-1pm in our parking lot! Lunch is on us, and we will be accepting donations for the Honor Flight Network!
RSVP for any of these events by emailing us at marketing@horiconbank.com by April 4, 2016.