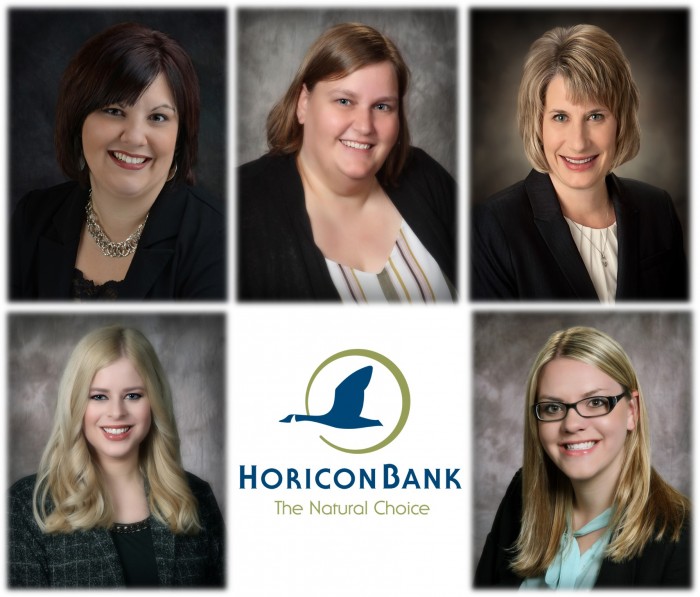 Horicon Bank Promotes Five Employees
The Board of Directors of Horicon Bank recently promoted five employees within the organization. Jenny Muche was promoted to Vice President; Tonya Bock, Brenda Hetebrueg, Lynn Larson and Danielle Schraufnagel were promoted to Officers of the Bank.
Jenny Muche started her career at Horicon Bank in 2012 as the eBanking Officer and became Assistant Vice President of eBanking in November 2015. Jenny is responsible for all aspects of the bank's digital banking and electronic services, including Internet Banking, wire transfers, debit and credit cards.
"I love the caring culture of Horicon Bank, we truly care about our communities, associates and customers. It is so rewarding to be part of an organization that gives back in so many ways," said Muche.
Tonya Bock joined Horicon Bank in 2012 as a Customer Support Representative and was promoted to Customer Support Center Manager in February of 2017. As Customer Support Center Officer, Tonya oversees her team and handles incoming calls to help with customer inquiries. She says she appreciates Horicon Bank's investment in their employees.
"I enjoy working at Horicon Bank because everyone has the opportunity to grow and succeed within the organization," said Bock.
Brenda Hetebrueg has been with Horicon Bank since 2018 and has over thirty-five years of banking experience. Brenda has been instrumental in the growth of the West Bend branch of Horicon Bank. She enjoys building relationships with her customers.
"I love working with customers – being able to help them with their financial needs and making them aware of all the great products and services Horicon Bank offers," said Hetebrueg. "And as a branch manager, I enjoy working together to give the best customer service possible and helping my team succeed and grow," said Hetebrueg.
Lynn Larson started her career at Horicon Bank in 2012 and joined the Finance department in 2016. As Accounting Officer, Lynn is instrumental in preparing the Bank's financial statements and regulatory reporting.
Danielle Schraufnagel joined the Bank as a teller in 2013. She later advanced to Instore Branch Manager, Assistant Branch Manager and Branch Manager in Beaver Dam. As an Officer and Manager, Danielle works directly with customers while managing a team of Horicon Bank associates.
"We are happy to promote these talented employees," said Horicon Bank President, Fred F. Schwertfeger. "Our vision at Horicon Bank is to be bankers who care about our communities, our associates and our relationships. Jenny, Tonya, Brenda, Lynn and Danielle do just that in our Beaver Dam, Horicon and West Bend communities."
Founded in 1896, Horicon Bank has twenty offices in fifteen communities in Wisconsin.