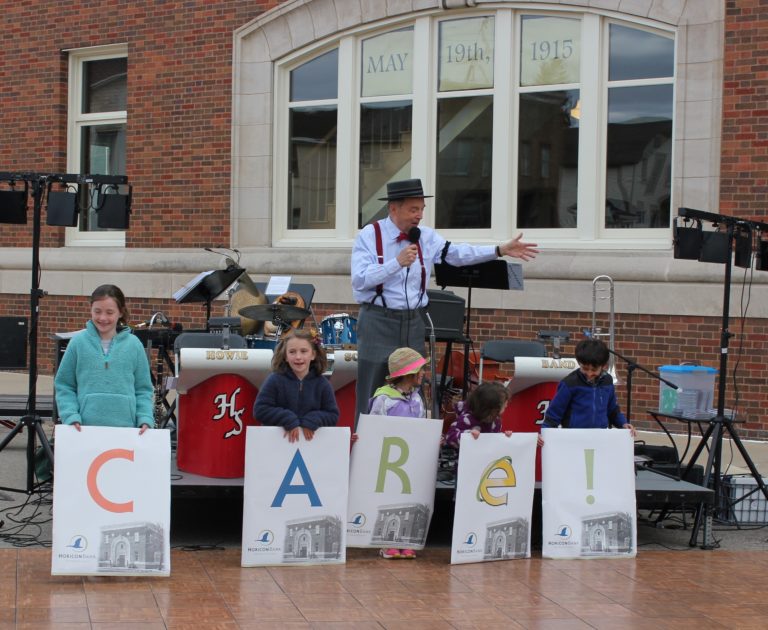 Forging a business over 120 years takes resolve. Grit. Fortitude. And for Horicon Bank, kindness.
Yesterday's kindness…
Since it's opening on September 7, 1896, Horicon Bank has been built on a community banking premise – that good business involves reinvesting in the local community.
In fact, during the height of the Great Depression in 1935, Willard Van Brunt, the son of Horicon Bank founder Daniel Van Brunt, gave 95 employees of the John Deere Horicon Works plant $300,000. Those employees, in turn, reinvested that money back into the local economy and the bank itself.
When banks across the nation could no longer issue physical bills in the Depression era, Horicon Bank issued its own scrip form of payment to keep the local economy going. Customers could use this tender instead of cash, and business owners could accept it knowing it was backed by the bank.
Horicon Bank's commitment to the local economy extended throughout the Depression right until the very end – when they were one of the first banks to reopen after the great crash.
…today's CARE Mission
Bankers love acronyms. Stop in your local bank and you'll hear about ARM, OREO, PMI and a host of other letters. But Horicon Bank's CARE acronym has a special mission for its employees that goes beyond its letters.
In 2014, Horicon Bank president Fred F. Schwertfeger challenged the employees to be "Bankers who CARE" about their Communities, Associates, Relationships and Expectations.
At the heart of the CARE mission is the same philosophy Horicon Bank was built on – good business involves reinvesting in people. In the Bank's case, that means their employees, their customers and the local community.
Horicon Bank has been named a "Top Workplace" in the state of Wisconsin by the Milwaukee Journal Sentinel four years in a row. But the designation does not come easily. Each year, employees take a survey through Workplace Dynamics that gives the bank an introspective look on how they are doing. The Bank then has a platform to start from when it comes to improving their organization.
One improvement Horicon Bank leadership has made to the benefits they offer employees is to add an Employee Stock Ownership Plan, or ESOP. The Bank has allocated a quarter of their bank shares toward the ESOP – essentially making each employee an owner of the bank. According to Bank President, Fred F. Schwertfeger, this mutual ownership is more than another bullet point to the employee benefit package.
"As an owner, each associate is invested in our bank's success," said Schwertfeger. "When we grow and gain market share – that means something. It's the difference between saying 'Horicon Bank is my company' and 'Horicon Bank is a company I work for.'"
In addition, Horicon Bank associates are given opportunities to learn and grow professionally. Schwertfeger says that by encouraging conferences, webinars, and trainings, the Bank is investing in the growing capabilities of its workforce.
"When we encourage our associates to continue their education and grow deeper in their roles, we are saying to our associates 'It is through you, that we are going to grow our business. It is through you, that we find success,'" said Schwertfeger. "We constantly want to be a bank whose associates are growing in skills and success; because in the end, that knowledge will offer a better customer experience."
According to Schwertfeger, customers can expect a better banking experience at Horicon Bank because they are striving to combine the best of two very different banking worlds.
"At Horicon Bank, we offer our customers a personal experience – a genuine "hello;" a one-on-one meeting with a lender, or a business plan that actually meets your needs," explained Schwertfeger, "but not at the cost of convenience or products. Our goal is to offer all that a big bank offers, but at a community level, where our customers are more than just an account number."
Horicon Bank offers a full range of products – checking, savings, loans, even investment services, but they also offer products most people assume a community bank can't. The Bank offers the ability to open accounts or apply for a home loan online. Their mobile banking app is easy to download and gives customers the ability to make deposits just by taking a photo of their check.
But like Fred said, that convenience doesn't mean the Bank sacrifices customer service.
"We are still a community bank," said Fred. "Decisions are made locally. Your banker is your neighbor. And we care about the economic and social state of our communities."
More than reinvesting funds into their communities, Horicon Bank also reinvests time. Bankers sit on boards, organize 5K fundraising races, coach Little League, and lead Relay for Life teams (just to name a few). The individual commitment to volunteerism is fed by a bank-wide commitment to support that effort.
"When you see your banker in the local Rotary meeting, or sitting on the PTA committee, or organizing a United Way event, you're seeing just how much our bankers care," said Schwertfeger. "That's our mission, and it's something we encourage, but it's also something our bankers take ownership of. And that's special. That's what makes a caring banker."
This September, Horicon Bank is taking their CARE mission to another level. Recognizing the 120 years the local community has supported their business, Horicon Bankers are committed to "120 Acts of Caring" from their anniversary date until the end of April when they celebrate Community Banking Month.
"120 Acts of Caring seemed like a fun way to celebrate our anniversary," said Schwertfeger. "We thought, 'Why not give back to the communities that have given our small business so much support over the years?' Personally, I hope we make it past 120. I think we can do it. But you'll have to tune it to find out!"
Horicon Bank plans to record their "Acts of Caring" on their Facebook page throughout the months of their celebration.
"Banking is changing. It's evolving," said Schwertfeger. "And over 120 years, we have evolved with it. But that doesn't mean we change the way we do business. It doesn't mean we change what makes us special. I hope we always strive to be 'bankers who CARE.'"
*This article first appeared in the 2016 September InSpire Magazine.