The Holidays are quickly approaching- time to trim the tree, bake delicious cookies and… save money?
The hustle and bustle of the holiday season is here and it's easy to get wrapped up in a spending spree this time of year. These money savings tips can help keep your holidays merry and your finances bright during this magical season.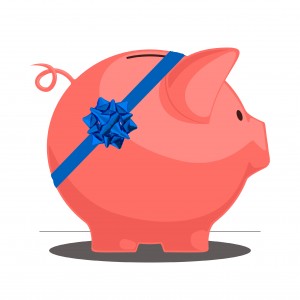 Make your holiday list and set a realistic budget. Once you've made of a list of everyone you intend to buy for, set a limit on how much you can afford to spend (and stick to it!). A good rule of thumb- don't allow yourself to spend more than 1.5% of your household annual income on holiday gifts and entertainment. If you have a large family, consider drawing names for a gift exchange and setting a spending cap. Caution: You still may get those footie-pajamas from Great Aunt Elma.
Shop early. Starting your shopping early will allow you time to compare prices and avoid those last minute 'scrambling-to-find-a-gift' purchases, which can leave you spending more than you had budgeted for. If you're tech-savy, consider using one of the many online resources or smartphone apps to help you compare prices across retailers. Remember to keep your list with you (there's an app for that!) Although little Johnny would probably love to have five Ninja Turtle action figures, you want to avoid overbuying or forgetting someone altogether.
Make a payoff plan. If you plan to shop with credit cards this season, be sure that you have enough in your bank account to pay off the amount when the bill arrives. If you find yourself strapped for cash this time of the year- year after year, consider opening a Christmas Savings Account where you can save all year long and access the funds in time for the holidays.
Get creative. Some of the best gifts aren't purchased from a store! Consider using your talents to give handmade gifts this year. I'm not taking about getting out your construction paper and Crayola markers here. For example: bake some cookies, knit a scarf or create a memory book for a friend or relative. Not crafty? Give a coupon for a free home cooked meal or 1-hour of 'Mr. Fix-It' time for household repair. The possibilities are endless.
Enjoy Free or inexpensive holiday entertainment. Invite family and friends for a potluck dinner and cap off the night by watching a holiday movie together. Celebrate the season with a game night and invite others to bring over their favorite board games and a snack to share. Check your local community calendar for parades and tree lightings. Bundle up the kids, pack some hot chocolate and head out caroling around the neighborhood or take a drive through the most festive area of town. You know where...that one house that has more lights than a Griswold Family Christmas.
-Meredith Strieff, Personal Banker