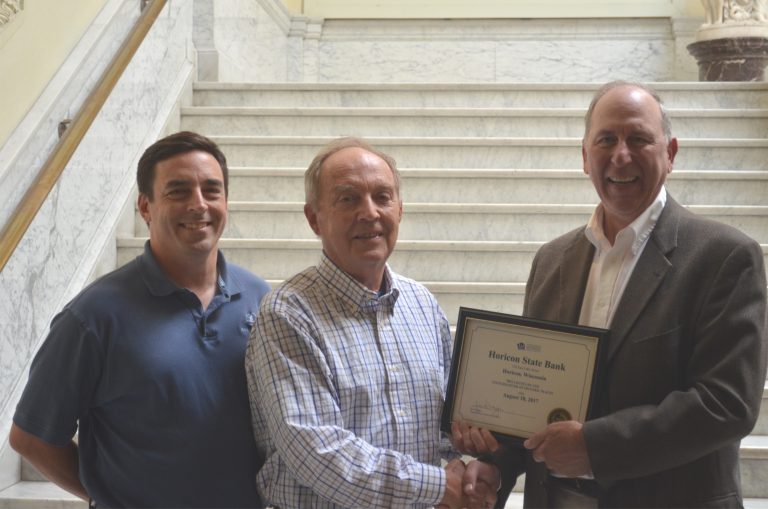 Fred C. Schwertfeger and Fred F. Schwertfeger receive award from Jim Draeger, State Historic Preservation Officer.
It's official! We're 121 years old.
And to celebrate, we have a special announcement. The State of Wisconsin Historical Society has added "Horicon State Bank," our original bank building in Horicon, to the State Register of Historical Places! That means, we are now eligible to be placed on the National Register of Historic Places when the Wisconsin Historical Society presents their nomination to the Department of the Interior.
Our nomination for the award was submitted two years ago by Legacy Architecture of Sheboygan. The Wisconsin Historical Society considered the buildings' merit under the categories of both history and architecture.
Here's a little background: the building was designed by a notable Milwaukee architect, Herman Buemming. The President of Horicon "State" Bank at the time was A.W. Wilcox. Over 100 years later on August 18, 2017, their vision was rewarded by the State Historical Society Board who voted to approve the nomination.
"We wanted to pursue being added to the State Register because our original building and architecture were worthy of being recognized," explained VP of Communication Fred C. Schwertfeger.
Throughout more than 100 years of the building's history, it has undergone a few changes. Even the bank's name has been modernized to Horicon Bank.
Most recently, we have been working to restore much of the original architecture in the lobby and on the outside of the building – even celebrating that architecture and history with a street party and bank tours in 2015.
It is only the second building in Horicon to qualify for the award. The other building was the home of the bank founder, Daniel Van Brunt.
"We think being added to the State Register of Historical Places really honors our past and the vision of the men who built the bank many years ago," said Schwertfeger.
What a way to celebrate 121 years in our community! Thanks for sticking with us all these years and for supporting our business. We hope to continue for many more years as 'the natural choice' for banking in our communities.