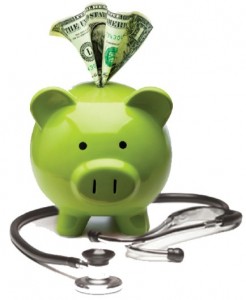 What is an HSA?
"HSA" stands for Health Savings Account. It was designed to be a tax exempt account to help save for medical expenses.
Wait, it's tax exempt?
That's right. HSAs allow for tax deductible contributions and tax-free distributions if distributed amounts are used for qualified medical expenses.
Who can open an HSA?
Any individual or family covered by a high-deductible health plan. There is no limit on the total number of HSAs that may be set up, and participants do not need to be self-employed or employed by small employers to qualify for HSAs.
So what happens if I switch to an insurance plan without a high-deductible? Do I lose all the money I saved?
Nope. There is no termination date for the HSA program. All the money you saved is yours to use for qualified expenses. This also means that the money you save in your HSA each year carries over to the next year. It's not a "use it or lose it" program.
Since it's a savings account, does that mean it earns interest?
You got it. The interest for a HSA at Horicon Bank is compounded and credited monthly. That means that the money you save will go right to work for you.
How do I access the money I saved in my HSA?
Horicon Bank offers a special HSA debit card for easy access to your funds. You can also keep an eye on your account through our internet banking service.
I think I qualify. What do I need to open an HSA account?
We'll need to know a few things from you.
When did you become eligible for an HSA?
What is your deductible amount for your health insurance plan?
And what type of plan to you have? A single or a family plan?
For more information, check out the Health Savings Account information on our website. Or stop in any of our locations to talk to a Universal Banker today!
The information provided is not intended to constitute tax or legal advice. This information may have changed or may be applied differently in certain circumstances. We suggest you confer with your personal accountant, financial advisor or attorney to discuss your situation.