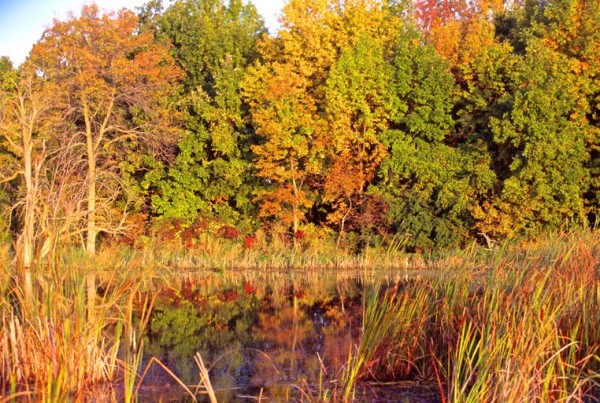 October in Wisconsin is special! From the rolling fields awaiting harvest to the forests and marshes, the whole landscape takes on rich colors. While our eye is drawn to the explosion of reds, oranges, and golds, it's easy to overlook what is going on below the ground.
As Fall takes hold, most plants are busy feeding their roots with the accumulated food and bounty of Summer. As sap and nutrients flow down into the ground, plants are preparing for the chill of winter and positioning themselves to leap to life when the days grow long again in spring.
In prairies, forests, and parks seeds are ripening and falling. Coneflowers, milkweeds, oaks, and apples are all dropping seeds. In turn, these seeds are sifting into the soil or being buried by squirrels and other creatures where they lie dormant, ready to start the next generations.
Like the trees in the park, Horicon Bank has a long tradition of feeding our roots in the communities we serve. We do this not only with our industry leading banking services, but also through our community involvement, including the WINGS promotion. This promotion highlights our local artists, as we support the local first responders or non-profits making a difference in our communities. Click here to learn more.
When we see our customers volunteering and making our communities better, it inspires us to do our part. Horicon Bank is proud to help our customers lift up our communities as we honor our roots and grow together. Please be sure to submit your nominations!
Horicon Bank is the Natural Choice to help meet all of your banking needs. Let us help you learn more about our WINGS program and all the banking services Horicon Bank has to offer such as business banking services, home equity lines of credit, savings accounts, CD's, home loans and many other services available to help you achieve your personal, business, and financial goals. Horicon Bank is available to serve you anywhere on the map and online. Let's get connected today!
Horicon Bank NMLS #434805