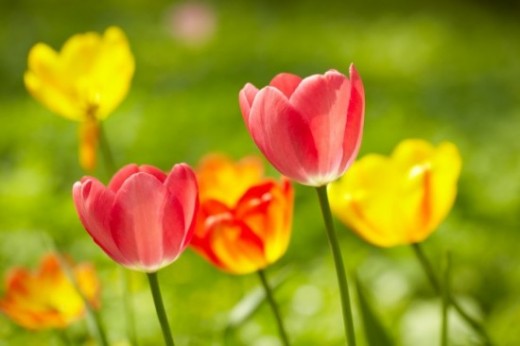 In spring many of us enjoy the emergence of early bulb flowers such as daffodils, tulips and crocuses. These spring bulbs are just a few of the cultivated species available to home gardeners today. Due to their great reliability, bulbs are a great investment and growth strategy for flowers. By providing a convenient way to store up energy they enable the plants to survive through adverse conditions and bloom at the right time year after year.
In addition to cultivated flowers, Wisconsin is home to a number of wild species of flowers which grow from bulbs. A few examples include the wood, Michigan, and turk's cap lilies. These native plants produce stunning flowers each year then save up lots of energy for the future in their rich bulbs. Overtime, these bulbs grow larger produce seeds, and create whole patches of flowers. This is a great example of an effective saving strategy.
When you think about it, flower bulbs are a lot like certificates of deposit (CDs). The bulb is like an initial deposit in a CD and the flowers are like the interest. By funding a CD with some seed money, then "planting" it for a fixed period, we are able to see attractive growth blooming again and again.
With reasonable terms, attractive interest rates, and safeguards to protect your investment, CDs, can be an important part of any financial strategy. At Horicon Bank, you have many choices of CDs and other tools to help manage and grow your money, including money market accounts, savings, and other interest-bearing accounts.
It's worth the time to check out all of the options available. By acting now, you too can enjoy seeing your investments bloom again and again!
Horicon Bank is the Natural Choice to help meet all of your banking needs. Our services include commercial and agricultural lending, home equity lines of credit, auto loans, savings accounts, CD's, home loans and many other services available to help you achieve your personal, business, and financial goals. Horicon Bank is available to serve you anywhere on the map and online. We're here to help anytime you need us. Let us show you our superpowers! Please contact Horicon Bank today for more information about financing, loans, and other resources to help you reach your goals!