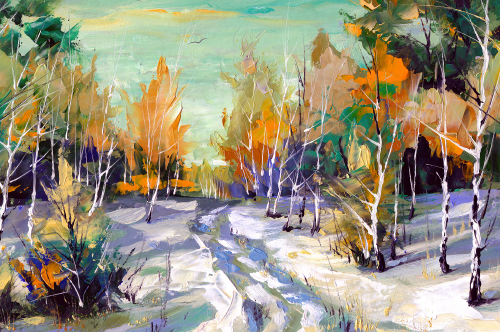 Outside snow and ice cover the land and life seems to be at a low ebb. However, in Nature there is always more than meets the eye.
Beneath that snowy blanket, there are many creatures taking a winter nap, including black bears. Though not a true hibernation, Bears have a somewhat restless nap as they awaken and stir within their dens regularly. While a hole in the frozen ground may seem pretty chilly to us, it is very comfortable and safe for bears. In fact, though they are in hibernation mode, sows use their cozy dens to give birth to cubs in mid to late January. Born weighing just a half pound and blind, cubs need the protection of the den to nurse and grow before emerging in spring.
In the trees, many of our summer birds have gone south, but new arrivals from the north are helping bring life to the land. Snow buntings, evening grosbeaks, and redpolls are just a few of the species of birds that only appear in Wisconsin in winter.
For some birds, winter is the time to begin courtship and nesting. Great horned owls and bald eagles are among the earliest to renew pair bonds and begin nest building for the next generation. So, though things may seem quiet outdoors, winter is a very busy and important time in Nature.
Winter is an important time at Horicon Bank as well. With the New Year upon us, we are busy helping customers prepare for a big year ahead. Helping businesses work through Covid relief programs, setting up new lines of credit, equipment financing, and agricultural loans keep our commercial bankers hopping. On the personal banking side, many customers use the winter to plan for new home construction loans, new vehicles, vacation homes, and more!
Horicon Bank is the Natural Choice to help meet all of your banking needs. Our services include home equity lines of credit, savings accounts, CD's, home loans and many other services available to help you achieve your personal, business, and financial goals. Horicon Bank is available to serve you anywhere on the map and online. Contact Horicon Bank today for more information about financing, loans, and other resources to help you reach your goals! Best wishes for a happy, healthy, and prosperous New Year!