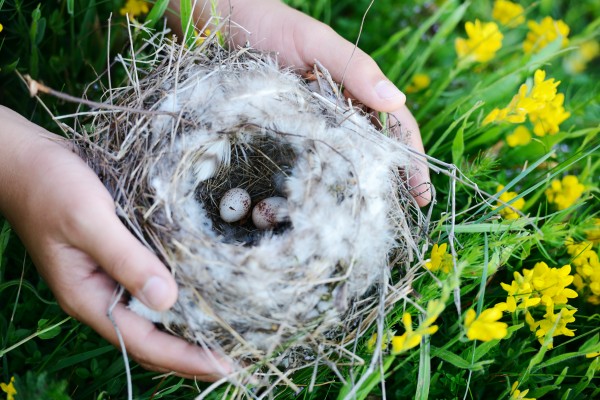 May is the pinnacle of Spring. As days grow long, the sun warms the land, and the bird migration reaches its peak. It looks, feels, smells, and sounds good outside.
May is also the time when most of our songbirds get into the swing of nesting. Many of us enjoy watching robins as they feverishly build mud and grass nests under eaves and on backyard branches. Or, maybe you have tree swallows of bluebirds using a nest box. For those who are really lucky, it's possible to observe even more intricate nest construction.
Some of our finest feathered crafters include goldfinches, ovenbirds, and orioles. Goldfinches weave multi-layer nests with bark, leaves and vines as an outer shell, the rim is reinforced with spider webs, and the bowl is lined with milkweed or thistle seed silk. These nests are woven so tight they can hold water! Ovenbirds make leafy huts with a side entrance on the forest floor. Orioles are acrobats as they weave delicate pouches made of hair, fibers, and grasses at the tips of drooping, swaying branches, often over water. Virtually every bird has a distinctive style when it comes to nest building. Likewise, most people have their own style in setting up their nests, or… homes. From apartments and townhouses to ranch, two-story, and Cape Cod styles, each of our homes has unique style and decorations to make them distinct. And, like birds, many of us are in a home building / improvement mode in Spring.
Horicon Bank understands the desire to build, expand, and improve your home. Our bankers appreciate the need for financial support to make these projects happen. To help meet the needs of our communities and customers, we provide a wide range of mortgages, building loans, home equity lines of credit, and more to help build, grow and improve homes in rural areas and cities throughout Wisconsin.
So, when the nesting urge strikes you, Horicon Bank is the Natural Choice to help meet all of your banking needs. Our services include commercial and agricultural lending, home equity lines of credit, auto loans, savings accounts, CD's, home loans and many other services available to help you achieve your personal, business, and financial goals. Horicon Bank is available to serve you anywhere on the map and online. We're here to help anytime you need us. Please contact Horicon Bank today for more information about financing, loans, and other resources to help you reach your goals!
Horicon Bank NMLS #434805