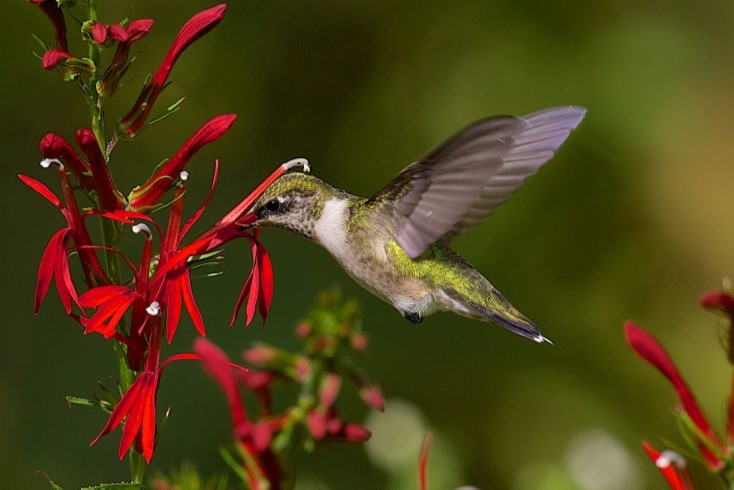 In fields and forests all over Wisconsin, rainbows of blooms are opening to herald the arrival of summer. These blooms are the beginning of a new crop of seeds, fruits, and vegetables.
In addition to the famous Door County cherries, peas, apples. and strawberries are just a few of the local crops which depend on pollinators to produce a bountiful harvest for farmers and all of us. From wine to peaches, and peppers, most of the produce and related products we enjoy from around the world depends on pollinators.
In addition to their importance to producing crops which feed people and wildlife, pollinators provide a huge economic benefit. According to Bayer Crop science, pollination from wildlife creatures delivers billions of dollars (U.S.) in economic value. Between $235 and $577 billion (U.S.) worth of annual global food production relies on pollinators contributions.
Most of us recognize hummingbirds, honeybees, and butterflies as important pollinators, but there are many more. For example, many species of beetles, wasps, moths, ants, flies and even pesky mosquitoes also make important contributions to the pollination story. Just like any community, it takes contributions from many to achieve a great success.
Like pollinators, Horicon Bankers help our local community by making connections between businesses, suppliers, and customers. We share our personal insights and networks to help customers grow their business and achieve success.
From routine banking needs, to personalized introductions and financial services, Horicon Bankers are busy as bees helping our customers grow the local, national and global economy. Whether your needs are for personal or business banking, additional resources due to economic challenges, or other financial needs, we're here to help.
Horicon Bank is the Natural Choice to help you and our community grow with business banking services, home equity lines of credit, savings accounts, CD's, home loans and a host of other services available to help you achieve your personal, business, and financial goals. Horicon Bank is available to serve you anywhere on the map and online. Let's get connected today!
Horicon Bank NMLS #434805