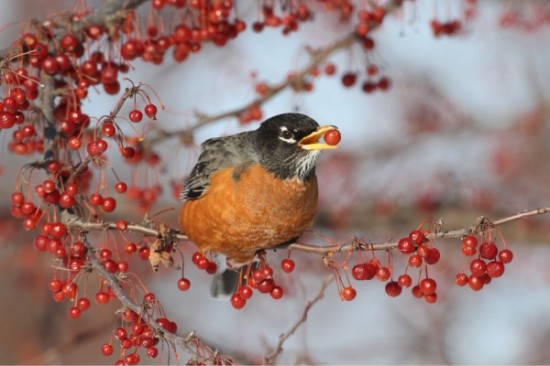 After a long, quiet winter many of us are looking forward to the return of Robins to our neighborhoods. From Spring through early fall, we see them on lawns and rooftops in almost every neighborhood. Perhaps this common presence prevents us from appreciating the wonders a Robin can do.
In fact, Robins have some pretty amazing superpowers! In particular, they have incredible eyesight which enables them to spot worms and insects from afar, even while in flight. Their hearing is so sharp, they can actually hear worms wiggling in the soil. And, they have an amazing sense of feel which can sense the vibrations of insects as they crawl through the soil or lawn!
Robin superpowers are a great inspiration to our team of Horicon Bankers in several ways:
We use our eyes to watch out for our customers' needs. From personal and commercial banking, home or auto loans, or convenient ATM and online banking options, Horicon Bank is always looking out for our customers.
Our team prides itself on listening carefully to our customers and communities to better understand their needs. Through our banking services and community involvement, Horicon Bank is always ready to lend an ear….and a helping hand.
We also strive to keep a good feel for the needs of our customers and communities. This helps us offer the most convenient and efficient banking services everywhere you go. Whether visiting one of our branches, visiting an ATM, or banking online, Horicon Bank is always ready to serve.
Horicon Bank is the Natural Choice to help meet all of your banking needs. Our services include commercial and agricultural lending, home equity lines of credit, auto loans, savings accounts, CD's, home loans and many other services available to help you achieve your personal, business, and financial goals. Horicon Bank is available to serve you anywhere on the map and online. We're here to help anytime you need us. Let us show you our superpowers! Please contact Horicon Bank today for more information about financing, loans, and other resources to help you reach your goals!